Happy National Chocolate Cake Day!
Wait, what? Okay, so every now and then I like to check and see what 'National Day' falls on any given #foodiefriday. Much to my joy, today is National Chocolate Cake Day.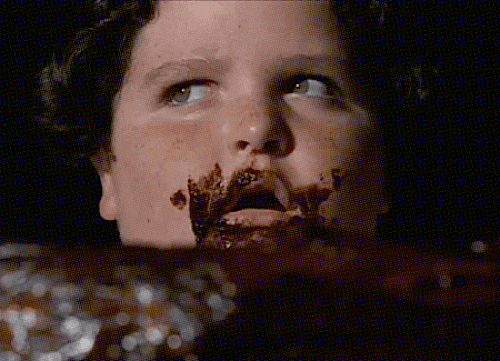 I can't think of chocolate cake without picturing one very famous scene from my favorite childhood movie: Matilda. Poor Bruce Bogtrotter was forced to eat a giant chocolate cake by evil headmaster, Ms. Trunchbull. Editor's Note: If you haven't seen Matilda or read the Roald Dahl book, do it.
So inspired by this chocolate cake, my sister and her best friend decided to make their very own with the recipe on the back of the Hershey's Cocoa tin. When you have two twelve year old girls in the kitchen, you better believe all went wrong. When it came time to add the boiling water to the batter, the eggs kind of…cooked. They still wanted to finish the cake, so into the oven it went! One of my best friends was over at the time, and declared it absolutely delicious nonetheless! Needless to say, I've never attempted to make homemade chocolate cake again. Now that I'm fifteen years older, I think it's about time I give the classic Hershey's chocolate cake recipe another shot. See the recipe here!
---